Innovation Name: Self Service Card Currency Control
Category: Best Innovation- Finance (Innovation in Banks)
Company: Eastern Bank Ltd.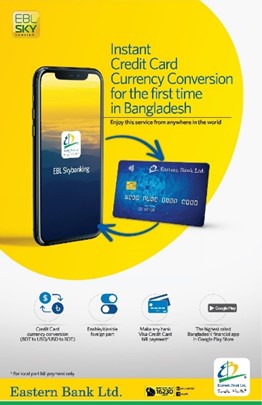 The content of this case study was written by the representatives of Eastern Bank Limited
EBL has been a bank which over the years thrived on innovation backed with Digital technologies. During the pandemic which swept across the country over the last 2 years, all the banks witnessed a significant change in customer behavior in terms of availing banking services. Gradually customers started using banking apps to perform fund transfers, various bills payment as well as avail various banking services. While the services were always available for customers to use in the first place, it was only during an adverse situation where customers needed a service and gradually witnessed the convenience which came with it. As a result, the number of transactions which took place through Digital Channels saw significant growth.
EBL's contact center received over 10000+ monthly calls from customers regarding various credit card services, especially credit card foreign part enabling and limiting conversion, which required customers to wait in call queues and consumed time of customer executives to perform the operations. This area required a shift in terms of attaining operational efficiency from a bank's standpoint.
Objectives
Creating a service which was relevant to customers' needs and market demand. Making customer's lives easier so that they can avail services instantly without any dependencies. Offer a service which was new to the industry and was not explored by any other banks.Creating an experience for the customer which has a lasting impact on customers.
The Idea
To cater EBL customers' requirements, EBL self-service credit card control where a customer can instantly enable or disable foreign parts and set foreign transaction limits for their own card. This automation would ensure bank operation as well as ensure customers convenience.
Execution
Going across various Digital banking services across the country, EBL figured out that foreign part enable/disable and limit conversion were two features which were yet to be enabled via banking apps for customers.
Considering the unique nature of the services and its significant demand in the market as well as making necessary adjustments through the core product team, EBL provided necessary requirements to the technology team to kick off the project.
After a successful user acceptance test and getting all the necessary clearance, the service was finally live.
Value Addition
Added a layer of security, giving control to customers credit card related fraud take place as customers usually forget to deactivate their foreign part.
The service added significant value to EBL's Digital Services as EBL has a massive presence as well as reputation in terms of credit card services.
Digital enablement of the service has given more power at the hand of customers; the services were previously manual wherein customers were required to visit branches physically or call contact center to avail the service.
Previously instant card block service was introduced in Sky banking; with the foreign part enable/disable and limit conversion service being available on Sky banking, the service is now offering a complete bundle of instant credit card services available for customers further justifying EBL's major customer portfolios requirement.
Result and Impact
EBL became the first ever bank in the country to introduce this service for credit cardholders in Bangladesh.
The service reduced over 50% card service-related calls in the very first month further helping service efficiency.
Providing customers with an extra layer of security and giving them control over their cards.
Reduced significant traffic at the branch for card related service requests.
EBL achieved a cost advantage through the introduction of this service.
The service helped EBL become the highest rated Bangladeshi financial app on Google Play Store in December.
The introduction of the service has made EBL a premier brand in terms of Digital Banking services for credit card holders
The service became very popular among customers who travel abroad.