Innovation Name: Jute Blazer
Category: Jute Diversified Product
Company: Mayfair Stylewear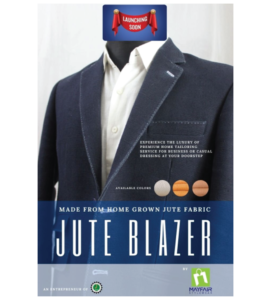 The content of this case study was written by the representatives of Mayfair Stylewear.
Jute industry has always been a major export earning source for Bangladesh right after independence. After the 90s, the jute sector has gone into the back seat due to the government. policy and advent of the plastic industry propelled faster to negate the industry.
For the last several years, Bangladesh has diversified its jute goods and jute-cotton fabric tremendously well which is unheard to many. Out of this diversification, jute entrepreneurs have focused in the following sectors:
FASHIONABLE/SUSTAINABLE RMG 

HOME & DÉCOR

SHOE INDUSTRY

AUTOMOBILES (NICHE)

PACKAGING

HANDICRAFTS  
Out of above category, Mayfair Stylewear have focused on Jute Garments. The fabric was produced by one of the leading traditional jute goods producers in Bangladesh end of 90s. Later, this fabric is being produced by very few producers which is good news for the industry. Majority producers never thought of this product line which Mayfair did. Not a single company took any initiative to make this product commercially viable due to many factors. Truly speaking, a lack of expertise in the skill set of a master tailor for fabricating and draping this jute blazer could be the main reason for not taking this into the next level.
Objectives
We know that the whole world is heading towards Eco-friendly working conditions. It's a talk of global height. Sustainable production process will help the positivity in climate change action throughout the fashion industry. Even our honorable Prime Minister is very much concerned about environmental impact while she delivered her speech in the World Leaders' Summit of the COP26 UN Climate Change in Glasgow, Scotland on November 1, 2021. 
In light of the above global impact, our objective has different dimensions in the fashion industry. Our planet will lose its circularity if we don't act now for a sustainable production process. A global campaign called "RACE TO ZERO" that rallies leadership and support from businesses, cities, regions, investors for a healthy, resilient, zero carbon recovery that prevents future threats, creates decent jobs, and unlocks inclusive, sustainable growth. Thus, we have no singular objective, rather we need to address several issues for climate positivity.  
The Big Idea
Mayfair Stylewear has commercially launched a Jute Blazer as a Jute Diversified Products. This innovative product has been selected by JDPC and Export Promotion Bureau (EPB) for display at the Bangladesh Pavilion at the World Expo2020 Dubai which is being held in the United Arab Emirates from 1 October 2021 and will continue until 31 March 2022. Mayfair Stylewear has branded its effort as "Best Innovation – Fashion & Apparel".
Execution
Mayfair Stylewear has done organic posts through Facebook, FB Page, Messenger, WhatsApp, LinkedIn, E-mail communication. No paid campaign executed so far.
Mayfair Stylewear launched its Jute Blazer as Jute Diversified Products (JDP) by following `industry trends, personal gut feeling and expert opinion from the fashion industry. Mayfair Stylewear till date has marketed the product heavily to every office be it government or corporate or private by meeting 1-2-1. The company also promoted the product by participating in the National Jute Fair. 
Value Addition
One fundamental definition of Jute Diversified Products in accordance with the definition of JDP stipulated in the Jute Act, 2017, any product we diversify with jute goods, there has to be a ratio of at least 50% Jute Yarn and 50% Cotton Yarn. It's a great value addition done by Jute Diversified Entrepreneurs in Bangladesh. Currently, we have produced 282 types of jute diversified goods in the BACKGROUND (Sl. # 2) mentioned categories. 
After the first commercial production and innovation of Jute Blazer, Mayfair Stylewear has produced Bermuda Short for exploring the export market which has been pitched to one of the local traditional jute millers. Then again, we shared proactively for producing an overcoat sample for North American buyers to the same miller and H&M. 
Result and Impact
Mayfair Stylewear participated in World's biggest Expo DUBAI EXPO2020 started in 1 October 2021 which will end on 31 March 2022 with Jute Blazer
100+ people have been visiting daily in DUBAI EXPO2020 Bangladesh Pavilion.

20,000+ people expected to visit Bangladesh Pavilion in 6 months.

Local selling of Jute Blazer and Jute Fabric has been going on. 

Export exploration with H&M Liaison Office in Bangladesh has been going on.

Jute Fabric Swatch has been couriered to one of the biggest Jute Trading Houses, German based for exploring sporty functional wear.

Shippers' Council of Bangladesh published an article called "3rd Generation Jute Business".

The pride and long-lost legacy of Bangladesh has displayed the first of its Jute Diversified Garments on the global stage in the Fashionable RMG category which was conceptualized, fabricated and rolled out by Mayfair Stylewear.