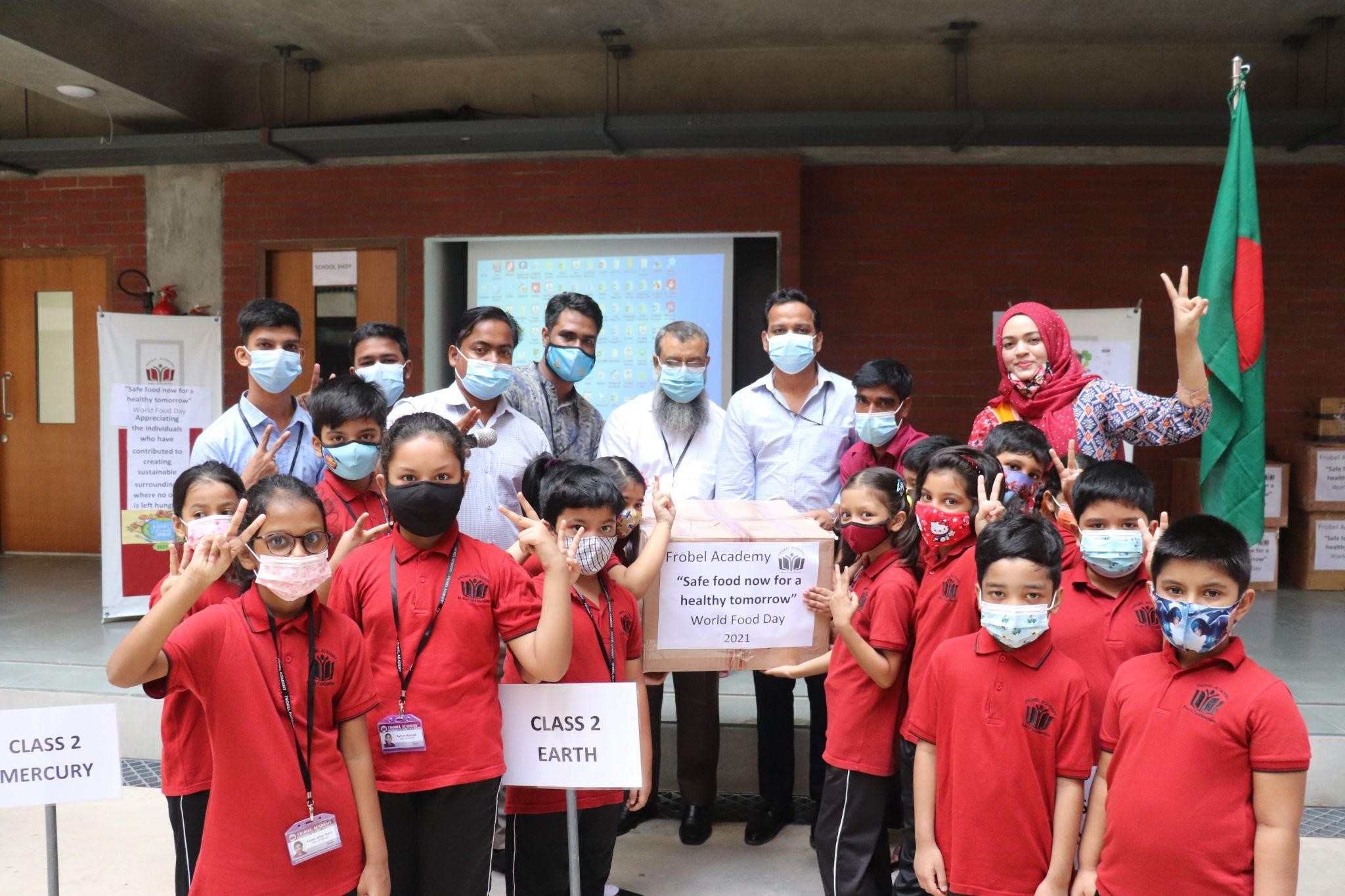 Innovative Infrastructure for Holistic & Experiential Learning 
Innovation Name: Innovative Infrastructure for Holistic & Experiential Learning 
Category: Best Innovation in Education (School Learning Delivery) 
Company: Frobel Academy 
The content of this case study was written by the representatives of Bondstein Technologies Ltd.
Frobel Academy has built their campus Infrastructure in such a way to emphasis on experiential learning and target to develop learners holistically. Only an active school life can contribute to the physical, emotional, and intellectual development of children and can ensure self-efficacy, self-esteem, socialization, and mental discipline. A physically active environment is favorable to the development of important characteristics including discipline, tolerance, communication, and determination. Using their state of the art, beautiful, and expansive campus, Frobel Academy adhered to a hybrid model of online and physical classes, and used the spaces available to ensure experiential learning for the students. The playful nature of the environment increases students' engagement with the school. The core purpose of this school is to ensure inclusive education.
Objectives
Having an innovative infrastructure that allows to bring a full holistic and experiential teaching facilities.

Accommodating all the facilities both in online and offline platforms so that students don't remain behind regardless of the situation.

Proper utilization of school premises and facilities for learning.

Make Education interesting and engagement based.
The Idea
Each lab, collaborative space, and special needs center has been designed keeping in mind that children learn in different ways. Teachers use the various spaces to conduct lessons and deliver learning. The wide availability of different types of spaces allows the teachers to plan and deliver their lessons in different ways that are meaningful and exciting for young minds. 

The big infrastructure allows the school to organize national and social event which helps students to adapt to the culture.  

Location has been chosen and designed by a famous architect of Bangladesh, so that it can expand further for better development.
Execution
The spaces designed for all the students including special needs children (such as those with autism, down syndrome and other sensory needs) ensure that each child receives one to one attention from special needs teachers that lead to greater learning for the child. 

Equipment has been placed that enhances a child's physical and mental strength and equip them to get integrated in mainstream classrooms.

The Bright Minds Shine Department consists of Enrichment Centre for one-to-one classes and the Wiggle Room offers customized learning tools such as Sound-Proof corner, zip line, swings, and ladders that increase physical agility among children.
Value Addition
Providing a caring classroom for – emotional, cognitive, physical and social development

Environment and facilities for continuous learning 

One to one facility for children with special needs

125,000 Square feet area allows us to facilitate all the activities

Providing the day care facility for teachers and the medical room and prayer room for students

We have farming section on rooftop and Pet house
Result and Impact
During one-to-one meetings and group meetings with parents, we see a consistent and grateful response to the school environment. Parents Comment – from a special needs child and general student.

The infrastructure built especially for special needs children allows them to participate in physical and academic activities that are designed for their personal and academic enhancement. It allows the special needs children to adapt to learning in their own space (not only Frobel, other school students are allowed to participate, involvement of other organizations – British Council) while at the same time they are able to maintain their social relationships within mainstream classes. They also get opportunities to participate in different events and contests.

Online platform is facilitated as teachers are able to take classes in school using our state-of-the-art resources, internet and classrooms when the students are at home. Apart from physical assessments, teachers are also using various online platforms to assess students' learning development.

We audit each teacher in different classrooms, online and in person, and fill out observation forms which are sent to the head of the school and are later discussed with the teaching staff on a one-to-one basis so that they get opportunities for improvement. Apart from these formal observations, a number of informal observations are done during in-person and online classes so that a teacher gets feedback.

Continuously bringing new activity – Bangla competition, Teacher's training, etc.