First Real Time International Money Transfer from Bangladesh
Innovation Name: International Insta Remit
Category: Innovation in Banks
Company: Social Islami Bank Ltd.
The content of this case study was written by the representatives of Western Union Bangladesh.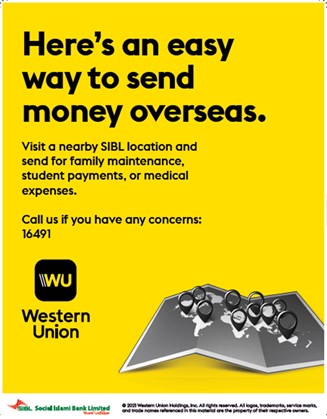 Background
Bangladesh intra payment system has grown drastically when transfers are made between Banks, Wallets and Cards real time 

International Remittances to Bangladesh has also evolved with NPSB, BEFTN etc.

But International Remit from Bangladesh to world is still not developed and Correspondence Banking and Demand Drafts are been used

Resulted in customer inconvenience, due to high cost, transfer time, uncertainty of fund transfer 

Which piqued customers to look for alternative options like Hundi

Formal Outbound Market (C2C/C2B): $200 MN, Informal Market: $800 Million
Objective
Address the key customer pain points for International Remit from Bangladesh
Real Time transfer (Money in Minutes).

Funds out option – Cash, Bank Account, Mobile Wallet, Cards

Lower Charges and Transparency

No corresponding Banking charges

Settlement in Multiple Currency

Easy Cancellation
The Idea
Leverage the capacity of a Global Fintech & Money Transfer Company, with a state of art product development to meet customer & regulatory expectation and mitigate the current customer pain points.
Execution
Identification of the scope under FED GEFT Guideline of Bangladesh Bank for Realtime C2C / C2B Transfer.
–          Student Payment         – Insta Edu Remit
–          Medical Payment         – Insta Medi Remit
–          Expatriate Payment     – Insta Family Remit
Regulation change of the Central Bank with special approval to SIBL to execute the service through Western Union.

Develop a Gateway & Host to Host solution by connecting 200+API of Western Union with SIBL core banking system.

Result