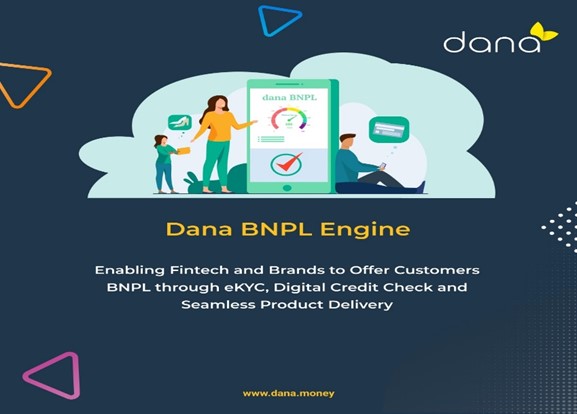 Buy Now Pay Later Engine
Innovation Name: Buy Now Pay Later Engine: Digital Customer Onboarding, Digital Credit Check of Customers And End To End Supply Chain For Brands
Cattegory: Best Process Innovation
Company: Dana Fintech
The content of this case study was written by the representatives of Data Fintech
Millions of shoppers now buy mobile handsets, home appliances and electronics on installment payment plans or buy now pay later facility. Brands have been offering this Buy Now Pay Later facility (BNPL) for decades. Now globally the BNPL model has shifted from manual to digital mode. BNPL fintech and brands are launching a BNPL facility ensuring an end to end seamless customer journey.  In Bangladesh, 25 million service sector workers like the factory workers, call center workers, gig workers, E-commerce delivery platform workers are underserved. These service sector workers who are potential borrowers do not have any credit score. So, our plan was to develop a BNPL engine for brands for different sectors like E-commerce, FMCG, RMG and so on. Therefore, using this BNPL engine brands can check the credit worthiness of their customers and based on the result they can provide desired products to them in a short period of time with the facility of paying later. This digital BNPL service can minimize the hassle of the manual BNPL management system for brands and helps them to increase customer satisfaction.  In this pandemic, Buy Now Pay Later has gained more popularity as there is a noticeable hike in the growth of online shopping and people find it more convenient to get the product delivered instantly at their doorstep and pay later gradually through installments.
Objectives
The objectives of the Innovation in the given amount of time are followed:
Creating credit worthiness of underserved potential borrowers who purchase consumer electronics, handsets, furniture and mobile handset on installment.

Transforming manual buy now pay later programs to brands to digital one.

Improving the current process of offering products on installment to customers.

Enhancing capacity of brands to onboard customers digitally and underwrite BNPL applications instantly. Moreover, to scale the current installment plan or BNPL propositions.

Current manual BNPL journey takes 4 days to 7 days while Dana BNPL journey offers instant approval decision and product delivery by 24 hours.
The Idea
The core idea/concept of the BNPL engine was to increase the financial accessibility of potential borrowers who are underbanked and do not have strong credit worthiness to apply for BNPL. So, the idea was to create a solution for the consumers and brands to connect both end instant and score customers based on alternative data to check credit worthiness of customers. Moreover, the purpose of the BNPL engine is also to help brands to reduce their BNPL management system and turnaround time to offer products to customers. This helps brands to enhance customer happiness and scale the business with more profitability.
Execution
Dana uses customer consented different data funnels to score customers in 3 minutes. Individuals can choose a product and apply for a BNPL facility from Dana app or Dana white level app for brands. Brands get the BNPL applications on Dana digital underwriting dashboard and can underwrite and offer borrowers installment-based payment plans instantly.
Customers get products delivered in 24 hours and keep paying back on the due date. Dana reduces the current manual BNPL processing time from weeks to minutes, making the Entire customer journey seamless. 
Value Addition
In Bangladesh, 90% of the population have no access to formal finance and only 1.7 million credit cards have been issued so far. Hence, consumers are adopting offline BNPL to buy products of different brands. But the current journey is not digital, rather it is based on a back-and-forth manual process and it requires huge manual intervention which offers poor customer experience. Brands cannot scale BNPL sales volume to the next level without the BNPL engine. Moreover, brands have to reject BNPL applications of a good number of interested customers due to lack of income validation and credit scores. Interestingly, 176 million mobile subscribers and 100 million digital wallet users are accelerating the digital economy of Bangladesh. It indicates there are enough digital footprints of users to bring them under the credit scoring system.
Here comes Dana BNPL Engine with an alternate digital credit scoring engine and digital underwriting platform to enable brands onboard customers digitally with eKYC and score them based on alternative data to offer BNPL facility instantly.
Result and Impact
50 mobile handsets have been offered to 50 customers using Dana BNPL engine.
The impact of our innovation is that service holders or any individuals who are not eligible for credit cards and cannot purchase products in installment hence fail to purchase their desired products when they need, through our BNPL service now they are capable of buying products in installments without any credit card. Using our BNPL engine, brands can now check the credit worthiness based on alternative data of their customers whether they are capable of buying products in installments or not. Hence, brands now can digitally offer their customers buy now pay later service which is more convenient than the manual management system. Thus, it will increase customer satisfaction as they are getting their products delivered within 24 hours at their doorstep with the facility of paying later within the due date. This innovation is helping to minimize the hassle for both sellers and buyers and improving the ultimate end to end supply chain.